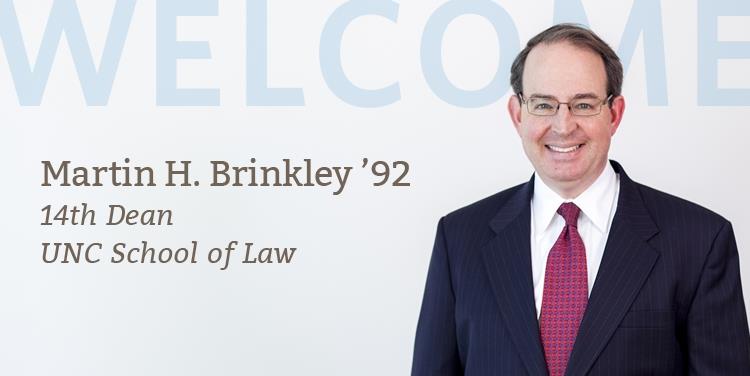 Martin H.
Brinkley '92, a partner in the law firm of Smith, Anderson, Blount, Dorsett,
Mitchell & Jernigan, L.L.P. in Raleigh, North Carolina, will be the 14th dean
of the University of North Carolina at Chapel Hill School of Law. Brinkley was
chosen after an extensive nationwide search, led by Mike Smith '78, dean of the UNC
School of Government, and succeeds retiring Dean John Charles "Jack" Boger '74, who plans
to return to the law school faculty after serving as dean for nine years.
Brinkley will remain associated with Smith Anderson as Of Counsel while serving
the University and the law school.
"The Carolina community joins me in
welcoming Martin Brinkley as the dean of the UNC School of Law," said
Chancellor Carol L. Folt. "We are thankful Martin's professional path has
brought him full circle – back to the very place where he earned his own law
degree. He is a preeminent attorney
with extensive knowledge of corporate law and a deep commitment to public
service and pursuit of excellence in legal education."
Brinkley comes to the deanship after 22
years in private practice. A native of
Raleigh, North Carolina, Brinkley is a 1987 Phi Beta Kappa and summa cum laude
graduate of Harvard University. He received his law degree from UNC-Chapel Hill
in 1992, where he was executive articles editor of the North Carolina Law
Review. After law school, he served as a law clerk to Chief Judge Sam J. Ervin
III of the United States Court of Appeals for the Fourth Circuit. From
1996-2000, Brinkley returned to UNC School of Law as an adjunct professor. In
2011, Brinkley was named president of the North Carolina Bar Association, the
youngest lawyer in more than 50 years to lead the statewide association. He is
a recipient of the Bar Association's Citizen Lawyer Award, UNC School of Law's
Pro Bono Alumnus of the Year Award and other awards recognizing his pro bono
service to individuals and charitable institutions.
His primary experience has been in the
fields of corporate law, mergers and acquisitions, antitrust, insurance, public
finance and nonprofit organizations law. He has been lead outside counsel to
companies and institutions in the manufacturing, distribution, food and
beverage, and insurance industries and chairs Smith Anderson's regulatory and
governmental affairs practice. Brinkley is recognized in Chambers USA:
America's Leading Business Lawyers, Woodward/White's The Best Lawyers in
America, North Carolina Super Lawyers, Business North Carolina's "Legal
Elite" and Who's Who Legal: The International Who's Who of Business Lawyers. He has served on
the boards of or acted as pro bono counsel to more than 30 nonprofit
organizations with educational, charitable, religious, and artistic missions.
He is a trustee of the North Carolina Symphony, Saint Mary's School, the
Philharmonic Association and the North Carolina Chamber Music Institute. As
secretary-treasurer of the North Caroliniana Society, he has led efforts to
more than quadruple the society's financial support of the North Carolina
Collection in UNC's Wilson Library. He is vice chancellor of the Episcopal
Diocese of North Carolina and a former senior and junior warden and vestry
member at Christ Church in Raleigh. His wife Carol, a 1986 graduate of the UNC
School of Journalism and Mass Communication, is a language facilitator for hearing
impaired students in the Wake County Public School System's Frances Lacy
Elementary School. The Brinkleys have two daughters, ages 22 and 20, and a son
age 14.
Founded in 1845 as part of the nation's oldest state-supported university, UNC School of Law boasts an active network of 11,000 living alumni, more than half of whom live and work in North Carolina, including governors, judges, U.S. Senators, members of congress, private practitioners, public interest lawyers and business leaders. UNC School of Law's world class faculty and staff prepare outstanding lawyers and leaders to serve the people and institutions of North Carolina, the nation and the world. The school offers strong expertise in banking, environmental law, intellectual property, civil rights, entrepreneurial and securities law, bankruptcy and constitutional law. Student-run pro bono projects have earned national recognition. Joint-degree programs cover business, public policy, communication, planning, public health, social work and public administration.
About the University of North Carolina at Chapel Hill
The University of North Carolina at Chapel Hill, the nation's first public university, is a global higher education leader known for innovative teaching, research and public service. A member of the prestigious Association of American Universities, Carolina regularly ranks as the best value for academic quality in U.S. public higher education. Now in its third century, the University offers 78 bachelor's, 112 master's, 68 doctorate and seven professional degree programs through 14 schools and the College of Arts and Sciences. Every day, faculty, staff and students shape their teaching, research and public service to meet North Carolina's most pressing needs in every region and all 100 counties. Carolina's more than 304,000 alumni live in all 50 states and 150 countries. More than 159,000 live in North Carolina.
School of Law media contact: Katherine Kershaw, 919.962.4125, kershaw@unc.edu
Communications and Public Affairs contact: MC VanGraafeiland, 919.962.7090, mc.vangraafeiland@unc.edu
-June 5, 2015
---
Original URL: http://www.law.unc.edu/news/2015/06/05/martin-brinkley-92-chosen-as-14th-dean-of-unccha/